Lowell Dome Complex
A Centre of Science and Industry
Situated at 52.3 deg S, 81.4 deg W, on southern Aonia Terra near Aonia Planum, Lowell Dome Complex (PDF map) is well known as a centre of science and industry. Its sub-Domes are Lowell Alpha (far end of Flagstaff Avenue), Lowell Beta (far end of Schiaparelli Avenue) and the Leisure Dome (far end of Percival Avenue). Lowell also has a substantial Hydroponics facility (far end of Pluto Avenue) and two spaceports: the main spaceport serves Lowell Central and the secondary port the very well-appointed Leisure Dome.
Lowell Central is a buzzing hive of places of interest and education, with accommodation and entertainment to suit all tastes (PDF guide) and all the usual amenities, from an exceptional hospital to a helpful Public Assistance Office. All routes are well-served by transport including hop on-hop off buses, mobile walkways, a monorail system and travel-cabs. The foremost hotel in Central Dome is the Lowell Canal Hotel, with wide-ranging conference and leisure facilities, but there are many smaller hotels and lodgings available. Lowell's Theatre, Museum and Arts Hall are prime attractions in Central Dome; Central also provides an extensive Sports and Leisure Centre (Clark Street) and numerous galleries, stores and restaurants.
Lowell's main academic institution is the prestigious Lowell College, University of Mars (Halley Street, Central Dome), which caters for undergraduate and postgraduate students and offers a range of part-time Diploma courses. Lowell School provides both junior and senior levels of schooling.
Permanent accommodation in Lowell Dome Complex ranges from Central residential blocks such as LaBelle and Comet Apartments to family units and apartments along its main 'tween-Dome avenues of Flagstaff, Schiaparelli, Percival and Pluto. Additional facilities can be found along the main outbound Avenues and in sub-Domes Alpha and Beta. Lowell Leisure Dome itself is a centre of the best in relaxation.
Let Lowell extend its hearty welcome to you!
---
This page is proudly sponsored by Amaloft's Diner, Coblentz St, Lowell Central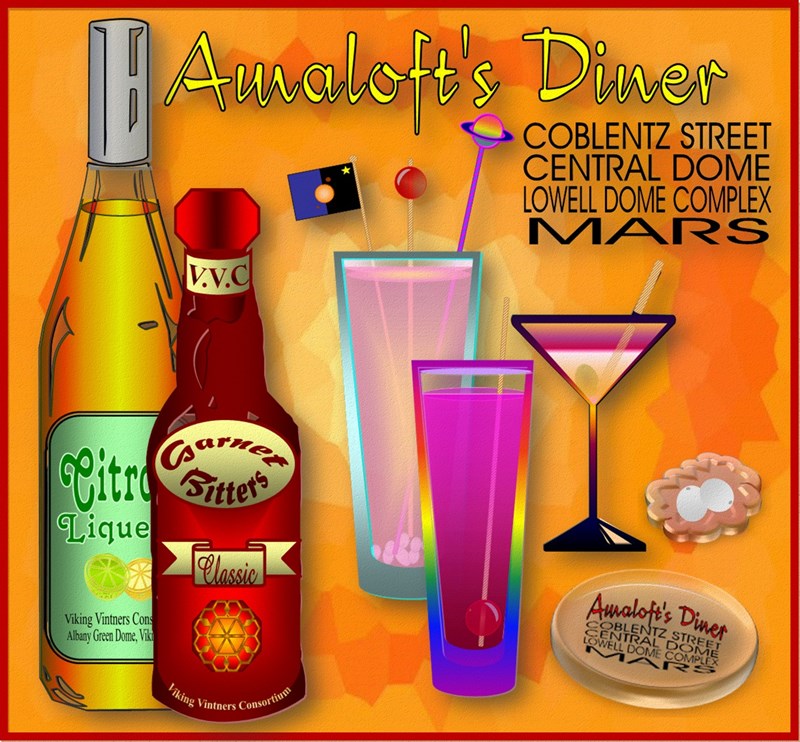 Find us at Grid Ref H14 on the Lowell Central Map Guide HERE...